Privacy Policy
The director reserves the right to change this policy at any time by notifying users through a notice posted on Healthpathy.com or by email, of the existence of a new privacy policy or any updates. Our site is about Health care information and news for health research articles. we provide information about health and medical notes for medical students and health information to serve humanity.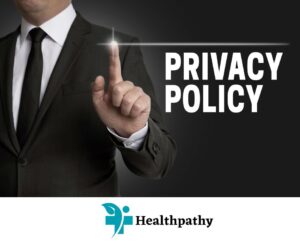 We use the information we collect to provide the services you request. Healthpathy does not sell, rent, or lease our customer lists to third parties. We will hold your personal information on our systems for as long as you use the service you have requested. There is absolutely no assurance that any statement contained or cited in an article touching on medical matters is true, correct, precise, or up-to-date. The overwhelming majority of such articles are written, in part or in whole, by professionals. Even if a statement made about medicine is accurate, it may not apply to you or your symptoms – consult a qualified homeopath.
Cooperate us:
From time to time, you will be asked to submit personal information about yourself (e.g. name and email address) in order to receive or use services on our website. Such services include newsletters, competitions, live chats, message boards, etc. Whenever you provide such personal information, we will treat that information in accordance with this policy. When using your personal information Healthpathy.com will act in accordance with current legislation and aim to meet current Internet best practices.
Your information will be disclosed where we are obliged or permitted by law. Also, if you post or send offensive, inappropriate, or objectionable content anywhere or otherwise engage in any disruptive behavior, the director can use whatever information that is available to it about you to stop such behavior. This may involve informing relevant third parties such as your employer, school e-mail/Internet provider, and law enforcement agencies about the content and your behavior.
Cookies
These are pieces of information that a Web site transfers to an individual's hard drive for record-keeping purposes while at the site. Cookies make web surfing easier by, among other things, saving your passwords and preferences for you. The use of cookies is an industry-standard, and you'll find cookies at most major Web sites as healthpahty.com. We are now suing interest interest-based advertisement policy of Google and the Double Click cookie, which is an advertising cookie that Google uses.
Cookies help make healthpathy.com better, by showing how and when guests use the site. Many content improvements and updates are based on such data as the total number of visitors and pages viewed. The cookie itself does not contain any personally identifying information. Most browsers are initially set to accept cookies. If you'd prefer, you can set yours to refuse cookies.
Follow us: