Menopause symptoms and treatment – signs of menopause age, night sweat, hot flashes
Menopause is a physiological change occurring in every woman at the age of around 50 years. In menopause the ovum formation stops in the woman's ovary. In this article, we are giving you complete information about menopause and discuss about menopause symptoms. Please read carefully these article menopause symptoms and share your queries.
Cause of menopause –
The main reason is the deficiency of hormone estrogen. It results in decrease of menstruation followed by it's cessation.
What is menopause?
According to the philosophy, a woman is considered to be complete only when she can give birth to a child and after giving birth to the child, when all the responsibilities of the woman are fulfilled and the age comes to 45, at this stage menstruation also stops.
The stoppage of menstruation is called menopause. That is,  now she is entering the stage in which she cannot produce the child. It is a physiological change in the body of every woman who shows this kind of changes. This condition occurs between 45 to 58 years. It may come either early or late as per constitution of women.
What are the problems faced in menopause?
It is a normal change that happens in the woman's body. But the problem is that when a major change occurs in the body, in a state you were already taking care of i.e your monthly period was coming on time and suddenly monthly periods (menstrual cycle) are closed.
Hormonal changes occur at this time in the female body. Due to hormonal changes, i.e imbalance of the hormones in the body, there is a lot of change in the nature, gesture and daily activity of the woman. Body is not able to adapt this sudden change in the body, due to which problems like irritability, hot flashes (feeling excessive heat on the face), and joint pain can occur.
What to do if you have menopause?
At this time it is very important to give mental support to women. At this stage, women should cared with 70% mental support and 30% medicinal or medicines. That means controlling the hormones imbalanced in the body and controlling the side effects occurring due to it.
At this time, women do not aware of certain think such as-
If Hot Flashes is coming on the body then what is the reason for it or the palms and soles are feeling warm, then what is reason for it?
If it is feeling irritable, then why is it happening
Why sleep is not coming properly?
At this time women need full mental support that the change is happening, due to the state of menopause and it is a great thing for women to congratulate that they fulfil the most important aspect of their life. Now he is free from all the responsibilities for which he was born.
It is time to celebrate that you fully lived and fully executed the most important aspect of your life.Now, if you are going to enter the second half, welcome it, and accept whatever changes occur, with very simple intuition. Try whatever you are advised to be ayurvedic or homeopathic; so that you can be protected against any problems that can harm you. 
How do you know now that menopause has started?
Menopause is an internal change in the body of women. At menopause, menstrual cycles decrease. If at least for one year if menstruation is not coming, then it is called the condition of menopause. In Indian women, it is only in the middle of 45 to 58 years of age. Many women also have the risk of being at an early age, this is called "premature menopause".
Menopause Symptoms
Signs of menopause-
If you are around 45 to 50
you are feeling the heat on your face. It happens so often
your periods that were coming equal to last years but now it is coming late,
if yes, then you are going to enter the age which is called perimenopause.
Feeling heat on your face are called hot flashes. This hot heat is caused by a deficiency in the hormone called estrogen. Sometimes it is in the upper part of the body below your neck, and sometimes it feels only on the face. Sweat also comes too, and sometimes this sweat comes in the night called as Night Sweat.
Now you know that you have entered the age of perimenopause and there is lack of estrogen hormone in your body. At this age, you should take care of two things i.e your heart and bones.
 Menopause Symptoms :-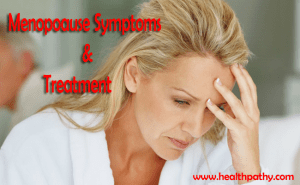 The main symptom of menopause is that menstruation begins to subside. Monthly menstruation comes once in two months to three months and goes away in 2 or 3 days and gradually the menstrual cycle ceases. When the state of menopause begins, it is not necessarily that all women show same symptoms. And not all of the symptoms are seen together as well.
There is no need to worry about this condition, just understand and adopt it. This is a kind of normal change which happens in the life of all women. If there are some common symptoms of menopause, do not worry about it and go and meet to specialist doctor(gynaecologist) and get the correct advice and get your regular checkups so that if there are any side effects,  can be prevented and also increasing weight should be checked.
 Some common menopause symptoms are as follows :-
Menstrual periods do not come on time or stops.
Irritability.
Headache.
Face warming.
Feeling heaviness on the body.
Feeling pressure on the chest.
Sleeplessness.
Frequent Urination.
Pain and dryness in the vagina.
Depression.
Reduction in libido.
Hair loss.
Skin dryness.
Night sweats.
Irregular heart beat.
Breast pain.
Constipation complaint.
Delicate Nails.
Urinary pain.
Joint pain.
Feeling fatigue in the body and excessive heat.
Increased weight & fat on the start of the menopause, i.e. having fat deposits in the body.
Reduced memory power etc.
Things to keep in mind –Menopause treatment.
Menopause symptoms are not uniform in all women. It also depends on their routine and physical constitution.The most important thing is that instead of panic in the state of menopause, you should keep some things in your mind such as-
Take good care of your health.
Proper diet i.e  rich in calcium, soya food, and vitamins.
Avoid tea, coffee and spicy food (chilly powder).
Uses of excessive oil should be reduce and stop it.
include yoga, exercise and meditation daily in your daily routine.
Menopause is not a disease.It is a change that is needed, to adopt and understand it. Because of bad eating habit and bad daily routine of today's life it is difficult to adopt the change due to menopause symptoms.
How to care yourself in menopause condition?
   1.   Dietary Management :-
Cabbage is helpful at the time of menopause. It can prevent from diseases occurring in the body.
Women should begin taking phyto-estrogen in the state of menopause. Phyto-estrogen is found in cheese, soya milk, soya bean, soya, soya flour and vegetables of soybeans. Thus it is recommend, women over 50 years of age should use more of this type of food.
In the state of menopause, a woman should drink a glass of milk every day and sesame should be used in it.
If a woman has pain in body parts in the condition of menopause in her body then she can use carrot seeds. Put the carrot seeds in milk and boil it, let it cool down, then drink.
Calcium is the most important for women than men. In this context, women should eat calcium rich foods and use natural foods, should drink a glass of milk daily. Replace calcium in the body with natural things, and not by chemicals made from pills.
In Ayurveda- Ashwagandha, Bramhi, Shankhuparipi are some of the medicines that can be taken but it is important to consult a doctor.
Mentally adopting it and talking about it openly. It is very important to support mentally.
Use a lot of iron in a natural way, not with the pill medicines.
Do not use any other things that increase your weight.
Avoid potatoes, rice and sugar from your food.
Do not use tea, coffee and sharp chilies chili powder and stop consuming foods made from oil.
   2.   Yoga & Meditation
If you want to keep yourself healthy without medicines, then you have to do yoga. By doing yoga you will have a big advantage. If you are doing yoga then keep in mind that it should be divided into 3 parts-
1. Before Exercise.
2. After exercise.
3. During workout.
That is, while doing yoga you should aware of certain things such as-
your stomach should be empty?
Your sleep is to be complete.
Do not have irritation while doing it.
Eat easily digestible food in night.
After doing yoga –
Do not go to the AC (air conditioner) for at least 1 to one and a half hours,
Avoid eating fried cheese and use only liquid such as fresh fruit juices.
Do not take yoga just by hurrying, trying to settle or like fashion.
Meditation will bring you a big advantage in the menopause stage. It bring you mental calmness and peace and will provide you mental strength to bear all the changes regarding menopause.
  3.   Medical Awareness :-
It is very important for all the women to have a regular check ups in the early menopausal age and should be aware of certain things-
That your hemoglobin percentage is growing or within normal limit?
Taking a few Stairs, your breath starts flowing it may be a sign of cardiac dysfunctioning.
You should aware of the things that you are enjoying before, are now irritating.
It is important to take care of all these things and it is important to keep in mind that you are not facing any weakness or disease.Therefore, if anything changes, please show the doctor. And it is necessary to take the opinion of the doctor before using any medication.
  4.  Self Analysis-
Women's life is very stressful. That means she have the responsibility of children and the whole family members with the responsibility of the house. She has engaged till night and do not know anything about themselves and about their existence. It is a request to the women who have this kind of lifestyle that they should takeout one hour out of the day and think about yourself –
1.  Is there a defect in my body? Yes or no? And if yes, then find out and get it solve.
2.  Am I mentally okay?
3.  Is there any worry, anxiety, nervousness, irritability, sleeplessness, such a complaint?
4.  Whether there has been a special change in what seemed like 10 years ago?
If changes have come, then what changes are they? If I want to correct them then how do I? In that 1 hour, you just think about yourself and avoid to think about children, family, or neighbors. Only you have to think about yourself. This one hour will help you to make a big change in your life. If you start thinking about it, at least you will bring about 10% of your changes in your life, and then your health can be fully safe.
Keep in mind that before taking anything or using it, consult the doctor and  get your regular check-up done. If you have any questions related to this article menopause symptoms, then you can ask in the comment box below, we will answer your questions. Also tell us would you like this information?
Thank you
Also read this-
Like us and Follow us on-
Facebook-
Twitter-