SOURCES OF HOMOEOPATHIC MATERIA MEDICA |
Homoeopathic Materia Medica is the collection of knowledge regarding the medicinal properties of the drugs. It is the compilation of the various symptoms collected mainly from healthy human beings and from other sources.
SOURCES OF HOMOEOPATHIC MATERIA MEDICA:
Empirical source: 
It is the traditional source and can be observed from the general therapeutic study of the medicine.
For example
Turmeric in cold& cough.
 Neem (Azadirachta indica) for gums & teeth.
Doctrine of signature:
The doctrine proposed that part of the human body is having a therapeutic relationship and the same plant or its part can be used for disease of the particular organ.
For example:-
Red juice of Hamamelis is indicative of its applicability in blood disease.
Cyclamen is used for ear diseases because its leaf resembles the human ear.
Yellow flower of Chelidonium acts well in jaundice.
Hypericum perforatum: the leaves of this plant have multiple perforations, is of great use in perforating injuries.
Euphrasia: The petals of euphrasia flower have a black spot on them which resemble to the human pupil. thus, it is good for eyes complaint.
Chemistry:
It deals with the constitution of substances, elements and their mutual reactions and the phenomena resulting from the formation and decomposition of compounds.
Thus by studying the chemistry of the drugs, we can get some idea of its action on the body.
For example, Acids have a corrosive, violent action on any tissue and leads to burning, inflammation, ulceration, excoriation with putrefaction.
For example,
Acetic acid- has
Profound prostration.
Terrible pains
Offensive discharges
Cold sweat.
Biochemistry:
It gives information about the biochemical action of substances which gives knowledge about the sphere of action of drugs on systems or organs.
For example,
Ca++ ion in nerve conduction.
Fe++ in anaemia.
Phosphorus in bones.
Toxicology:
In suicidal, accidental and homicidal cases, the poisoning effect of a substance due to overdosing is enough to understand its curative properties.
Drug proving: It is a process to investigate the pathogenic power of the drug substance by administrating it in a healthy human being and collecting and recording the symptoms produce on a healthy human being.
It can be done:
On Animals: Proving in lower animals such as mice, guinea pigs, monkeys, and other animals gives knowledge about the pathological changes occurring in the animal body.
It can give information about any subjective symptoms.
On Plants: Drug proving on plants give us knowledge related to changes taking place on the morphological and histological plane.
By this method effect of drugs on plant viruses and fungi can be studied.
On healthy human being: It is the most reliable source to build materia medica. It is the most scientific and authentic way of getting symptoms of drug substances.
It can give information about both subjective and objective symptoms.
Clinical experience:
These are the drug effect which was not obtained during proving of a drug on a healthy human being but seen in clinical practice.
Hope this information will help you and you all like it.
SOURCES OF HOMOEOPATHIC MATERIA MEDICA
Note: If you are a homoeopathic student, download the app now for better preparation of all the subjects.
Homoeopathic Medical Students Corner App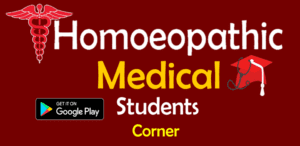 Must Read Also-
Classification of Fracture | complete notes
Like us and Follow us on
 facebook-
Twitter-