NUTRITIONAL REQUIREMENT DURING PREGNANCY
It is very necessary to know the NUTRITIONAL REQUIREMENT DURING PREGNANCY.Pregnancy is calculated in trimesters from the first day of your last menstrual period to the completion of 40 weeks.
The first trimester is from 1 to 12 week, or about 3 months. The second trimester is 13 to 27 week. And the third trimester spans from week 28 to the birth of the foetus.
NUTRITIONAL REQUIREMENT DURING PREGNANCY-
The first trimester is a period of major development for the foetus as it's a period of organ formation of the baby and there are profound physical, psychological and emotional changes in the expecting women.
You don't need extra calories until the third trimester but just manage the NUTRITIONAL REQUIREMENT DURING PREGNANCY. In first trimester there are increased requirement for folic acid and vitamin D. Vitamin A  requirement are slightly raised, which can be fulfill by adding dairy products to our meal.
1.  FOLIC ACID:
It helps in the proper development of the neural tube. The neural tube is the part of the embryo which forms the brain and spinal cord of the baby. Thus, it helps to prevent the neural tube defects and defects of the spinal cord (such as spine bifida) and the brain (such as anencephaly).
It also helps in reducing the risk of other defects such as cleft lip, cleft palate, and certain types of heart defects and also reduces risk of PREECLAMPSIA.
It is also essential for the production, repair and functioning of DNA and also helps in the genetic makeup of the growing foetus.
Neural tube defects occur at a very early stage of development, so it is recommended that women should start taking folic acid before she start trying to conceive to reduce the neural tube defects in their baby.
SOURCES OF FOLIC ACIDS:
Spinach.
Granary bread.
Brown Rice.
Citrus Fruits eg: Lemon, orange.
Mixed Nuts.
Breakfast cereals.
Asparagus.
Lettuce.
Sprouts.
Green leafy vegetables.
Strawberries.
The daily requirement of folic acid is 400 mcg per day. It may vary with the health status and previous history of expecting women.
2.  VITAMIN D: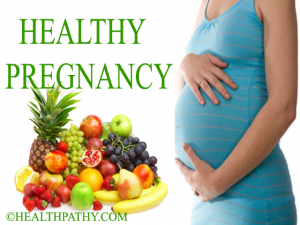 It plays an important role in maintaining proper levels of calcium    and phosphorus which is essential for the development of hard tissues such as bones, teeth etc.
It also modulates the immune response and thus protect mother from various infections.
The receptors for vitamin D is present in bone, breast, brain, colon, uterine muscle, placenta. Thus, it may affects the contractile strength.
It also regulates the glucose metabolism.
SOURCES OF VITAMIN D:
Orange juice fortified with vit-D.
Egg yolk.
Dairy products fortified with vit-D such as milk, cheese, yogurt.
Fatty fishes such as tuna, sardines, mackerel, catfish, pink salmon.
Cereals fortified with vit.-D.
Mushroom.
The daily requirement of vitamin D ranges from 1500 to 2000 IU per day. The deficiency of vitamin D has been associated with increased rates of caesarean delivery, bacterial vaginosis, and preeclampsia, as well as less efficient glucose metabolism.
3.  IRON:
As in pregnancy, blood volume as well as RBCs formation increases that leads to the more consumption of iron. Thus, the iron requirement increased especially during the second and third trimester.
It is essential for the synthesis of hemoglobin and also helps to carry oxygen to the whole body.
It's an important component of myoglobin (a protein that helps supply oxygen to your muscles), collagen (a protein in bone, cartilage, and other connective tissue), and many enzymes.
It helps maintain a healthy immune system.
It is important for the physical and mental development of the foetus as well as for the proper development of placenta.
SOURCES OF IRON:
Soybeans.
Kidney beans.
Chickpeas.
Cowpeas.
Fortified cereals.
Spinach.
Prune juice.
Lentils.
Pumpkins.
White beans.
Tomato paste.
Beef.
Organ meats (liver, giblets).
The daily requirement of iron is 27 milligrams (mg) per day. The iron absorption can be increased by adding vitamin C sources such as tomato, citrus fruits, lemon, orange juice etc. to the meal whereas tea and coffee prevent iron absorption so avoid them.
The iron deficiency leads to iron deficiency anemia during pregnancy which may lead to with preterm delivery, low birth weight, and infant mortality.
4.  PROTEIN:
Proteins are known as the building blocks of the human body. They are essential for the proper growth of the tissues of the baby.
It also helps in the growth of the uterus and breast during the pregnancy.
Proteins also helps in increasing blood supply.
SOURCES OF PROTEINS:
Peanut butter.
cottage cheese.
Tofu.
Beans.
Pulses.
Lentils.
Eggs.
Milk.
Nuts.
Chicken.
The recommend daily requirement of protein is 75-100 grams/day. The deficiency of protein can lead adverse effect on both mother and foetus. It may leads to improper growth of the muscle and bone.
5.  Calcium:
Calcium helps in maintaining body fluids.
It also helps in blood clotting during delivery and also in the nerve conduction.
It is essential for the development of the bone and tooth buds.
SOURCES OF CALCIUM:
Cottage cheese.
Milk
Curd (yogurt).
Spinach.
Turnip greens.
White beans.
Almonds.
Cabbage.
Eggs.
The daily requirement of calcium is 1000 milligram/day. The deficiency of calcium may leads to low birth baby, preterm delivery, hypertensive condition of mother during pregnancy and increases the risk of osteoporosis after delivery in early age.
So this is all about "NUTRITIONAL REQUIREMENT DURING PREGNANCY". I hope you will like it. Eat healthy and stay healthy.
Also Read-
Like us and Follow us on facebook-