Techniques of Repertorization:-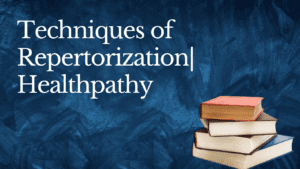 It simply means various ways of working out of the case with the help of a repertory, which has been developed through knowledge, skill, and experience. Techniques of Repertorization| Healthpathy
Old Method:-
Using plain paper sheet:- 
In this method rubrics are arraTechniques of Repertorization| Healthpathynged according to the hierarchy and medicines are listed among them.
All the medicines with their grades are written by hand against the rubrics.
In the end, common medicines which cover all the rubrics are found and are further differentiated with reference to Materia Medica.
Advantages-
By working with this technique, one can learn to use repertory in a better way.
It leaves a lasting impression on the user's memory.
Knowledge of the Materia Medica considerably improves.
Disadvantages-
It is much time-consuming and laborious.
An error may occur in writing remedies in exact grades and rubrics.
Modern Methods:-Techniques of Repertorization| Healthpathy
1. Using a Repertorial sheet –
The repertorial sheet used contains a list of medicines alphabetically arranged and also a number of longitudinal and horizontal columns for noting down marks against medicine, which are indicated for particular rubrics.
Advantages-
The only recording of grades against remedies requires less time.
Easy and most reliable method.
After doping total we can easily get similar and other auxiliary remedies.
Disadvantages-
The sheet may not be available to each and every physician.
The number of remedies in the sheet may not have prescribed medicine.
2. Using a Card:-
These are actually not the repertory but it is one of the techniques used for representation with the help of which one can reperterize very quickly. In these methods, cards are arranged logically to find out the simillimum.
Advantages-
It saves time and labour.
It does not require any paperwork.
3. Refferal way:-
It is used in cases that need a quick reference to a few symptoms for finalizing a remedy, mostly done by experienced physicians in acute as well as chronic cases.
Reference can be made using books, cards, or computers.
4. Using a Computer:-Techniques of Repertorization| Healthpathy
In this technique, different software is made and repertories are uploaded in it.
In this technique after making a repertorial properly.
Totally, we have to select the rubrics, which can be arranged and located in the computer repertory within no time.
Advantages-
It is speedy.
It can handle large amounts of data.
It gives accurate results.
It can perform continuous processing.
Disadvantages-
It can not take place of the reason-gifted human mind.
MORE TO STUDY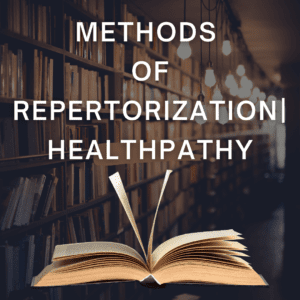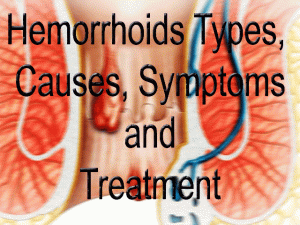 FOLLOW US